Many Opposing Views on California's New Water Futures Market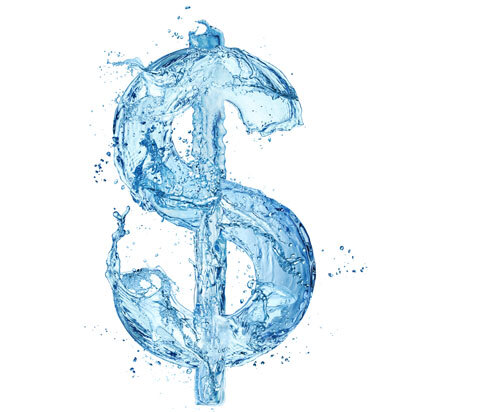 As of December 7, 2020, water has been included as a traded commodity on the Chicago Mercantile Exchange ("the Merc"). According to a recent Chicago magazine article, "Now cities and farmers can buy futures in California's water, meaning they can hedge against (or bet on) rising water prices out west, based on the Nasdaq Veles California Water Index [ticker symbol: NQH2O], which tracks the current market price of the five largest water supplies in the state…So far, only the Golden State's water supply is being traded; it's sort of a test run."
Some see this move at the Merc as a practical step toward creating fairer prices and more equitable distribution for water; however, others view it as a dangerous path toward benefitting from correctly predicting possible natural disasters such as drought and wildfires which cause water scarcity and human suffering. According to Pedro Arrojo-Agudo, the United Nations' Special Rapporteur on the right to safe drinking water and sanitation, "…it is a serious mistake to consider water as a commodity…such a futures market could also lure speculators such as hedge funds and banks to bet on prices, repeating the speculative bubble of the food market in 2008." On the other end of the spectrum, a recent article from the Los Angeles Times notes that, "…the contract's purpose is to give farmers and other major users a way to limit their exposure to price increases…That can be useful for water users such as growers seeking to lock in a price for the water they'll need in the future." See also: CalMatters: "Water markets in California can reduce the costs of drought."
CME Group is the world's leading and most diverse derivatives marketplace. It owns the Merc, the Chicago Board of Trade and the New York Mercantile Exchange, and determines which commodities are traded at the Merc. According to CME's website:
"The Nasdaq Veles California Water Index tracks the price of water rights leases and sales transactions across the five largest and most actively traded regions in California. Water entitlement transactions from the surface water market and four adjudicated groundwater basins ‒the Central Basin, the Chino Basin, the Main San Gabriel Basin, and the Mojave Basin Alto Subarea are included in the index. The value of the index reflects the volume-weighted average price of water, at the source, excluding conveyance costs and water losses in the underlying markets after adjusting for idiosyncratic pricing factors specific to each of the eligible markets and transaction types. NQH20 is valued in US dollars per acre foot (the volume of water required to cover one acre of land (43,560 square feet) to a depth of one foot, equivalent to 325,851 gallons)."
For a thorough overview of this new financial offering, you can also consult Pacific Institute's recent blog post here. As of mid-February, the water futures market had seen 180 trades—equivalent to more than 550 million gallons of actual water. We will continue to monitor developments regarding California water futures and provide updates of interest here on California Water Views.
Partner

Alfred Smith, chair of Nossaman's Water Group, is a recognized expert in water, environmental, transportation and public agency law. A graduate of the Harvard Law School, he has successfully litigated multiple water right ...

Partner

Willis Hon focuses on serving water industry clients across California on a broad range of administrative and regulatory matters. He has extensive experience before the California Public Utilities Commission where he has ...
California Water Views provides timely and insightful updates on the water sector in the state. We relay information on how water legislation and policy from the nation's capital, Sacramento, and around the U.S. affect California's water utilities, agencies, practitioners, and consumers. We also write about important events, conferences, legal cases, and other key happenings involving all things water in and around California.
Stay Connected

RSS Feed
Categories
Archives
View All Nossaman Blogs