WEBINAR: Flood or Drought? A Discussion of the Election's Potential Legislative Impacts on the Water Sector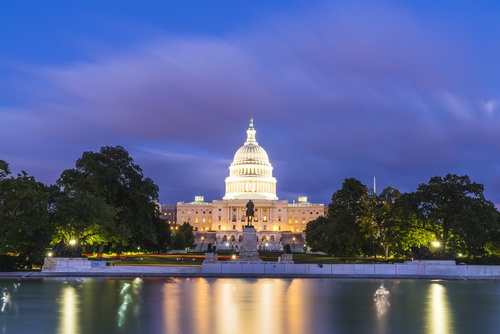 President-elect Joe Biden's victory over Donald Trump could mean big changes for federal treatment of issues affecting water service providers, as well as how such issues are addressed in California, where Governor Newsom will presumably now have an ally in the White House. At both the state and federal levels, legislators are still working to address the impact of COVID-19 on public health and the economy, while pursuing existing policy goals that may have been put on hold due to the challenges created by the pandemic.
To navigate these new changes, please join us on December 3, 2020 from 11:00 a.m. - 12:15 p.m. PT for a complimentary webinar, "Flood or Drought? A Discussion of the Election's Potential Legislative Impacts on the Water Sector."
Our panel will discuss the recent election, its impact on federal and state water issues and what we might anticipate for 2021, including:
Congressional election results and Committee changes;
Likely focus of Congressional legislation and policy;
Administration emphasis for first 100 days and first year;
Administration's longer-term goals and priorities;
California statewide election results' impacts on public policy making;
The pandemic's impacts on policy making in California; and
COVID-19 financial pressures on water suppliers.
Please click here to register, and we invite you to submit your questions for our panel prior to or during the webinar so that we may address your top concerns during the session.

Not able to attend the live webinar on December 3rd? Register now to receive a link to the on-demand recording once the live broadcast has concluded.
Nossaman LLP is an approved MCLE provider and certifies that this activity is approved for 1.25 hours of general credit for California.
Questions? Please contact Jessica Ku at jku@nossaman.com or 949.477.7667.
Senior Policy Advisor

Chris Carney has found success through public service. He represented Pennsylvania's 10th Congressional District for two terms and was a tenured professor of political science specializing in international relations at Penn ...

Partner

Lori Anne Dolqueist's practice focuses on water, energy, transportation and telecommunications regulatory matters before the California Public Utilities Commission (CPUC). She is experienced in representing clients in ...

Senior Policy Advisor

Ashley Walker is a Senior Policy Advisor providing federal and state legislative solutions and grant funding advocacy for a variety of clients with interests in sustainable communities, housing, water, and education issues. She ...
California Water Views provides timely and insightful updates on the water sector in the state. We relay information on how water legislation and policy from the nation's capital, Sacramento, and around the U.S. affect California's water utilities, agencies, practitioners, and consumers. We also write about important events, conferences, legal cases, and other key happenings involving all things water in and around California.
Stay Connected

RSS Feed
Categories
Archives
View All Nossaman Blogs