California Adopts First-in-the-Nation Microplastics Reduction Strategy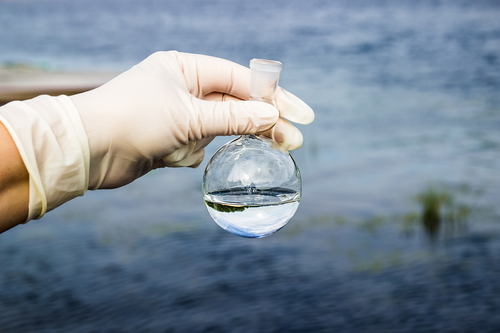 Last week, the Ocean Protection Council adopted California's Statewide Microplastics Strategy. The strategy is the first of its kind in the nation, focusing on outlining steps to address microplastic pollution, an emerging contaminant of concern.
Microplastics are defined in California as plastics that are between one nanometer and five millimeters in size. Microplastics have long been a concern for marine life, but recently there has been an increase in concern about the impacts of ingesting microplastics on humans. California has led the nation in developing strategies to combat this issue, with the State Water Resources Control Board adopting a definition of microplastics in the state in 2020 and creating the world's first standardized methods for testing microplastics for drinking water in 2021. By adopting the Statewide Microplastics Strategy, the Ocean Protection Council took the next step in addressing the issue.
The strategy focuses on what it describes as a "two-track approach:" "Solutions," which are short-term strategies, and "Science to Inform Future Action," which are long-term strategies. The "Solutions" are defined as "no regrets" actions, which the Ocean Protection Council identified looking at a variety of factors including feasibility, evidence, co-benefits, and overall benefits. The "Solutions" are broken into three categories:
Pollution Prevention, which is focused on eliminating plastic waste at its source;
Pathway Intervention, which is focused on intervening in specific pathways such as wastewater; and
Outreach & Education, which is focused on informing the public and industries of microplastic sources, impacts, and solutions.
"Science to Inform Future Action" focuses on research "to advance scientific knowledge of microplastics to develop and refine future solutions." It is broken into four categories:
Monitoring, which is focused on identifying and understanding trends;
Risk Assessment, which is focused on understanding the thresholds at which aquatic life and humans are impacted by microplastics;
Source and Pathway Prioritization, which is focused on how microplastics enter water within the state; and
Evaluating New Solutions, which is focused on developing and implementing potential future solutions.
The Statewide Microplastics Strategy is an advisory document that is not binding on any state actor. However, the Ocean Protection Council was required to adopt it by the California Legislature through Senate Bill 1263. Thus, there is a very real possibility that the strategy, or at least portions of it, will be put into place. The strategy will likely guide how California addresses this contaminant that affects both people and wildlife going forward.
Associate

Alex Van Roekel provides counsel to clients on state and federal water law issues including water rights, groundwater management and public policy within the water sector. He also assists clients in proceedings in front of the ...
California Water Views provides timely and insightful updates on the water sector in the state. We relay information on how water legislation and policy from the nation's capital, Sacramento, and around the U.S. affect California's water utilities, agencies, practitioners, and consumers. We also write about important events, conferences, legal cases, and other key happenings involving all things water in and around California.
Stay Connected

RSS Feed
Categories
Archives
View All Nossaman Blogs