Sea Level Rise Professionals Opine on Potential Impacts of SLR for California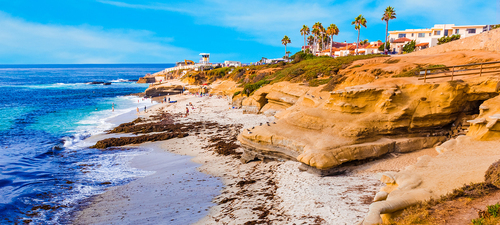 On May 27, Nossaman's Water Industry Group hosted a webinar to discuss the potential impacts of sea level rise on infrastructure and private property, as well as current legislation seeking to address the impacts of sea level rise.
This post is not intended to summarize the topics discussed during the webinar, so if you missed the presentation and want to catch up, you can download the slide deck or watch a recording of the webinar here.
Over the course of the webinar, we asked a few poll questions to get to know more about our audience and their concerns about sea level rise. We found the results interesting and wanted to share in case others were curious about the results.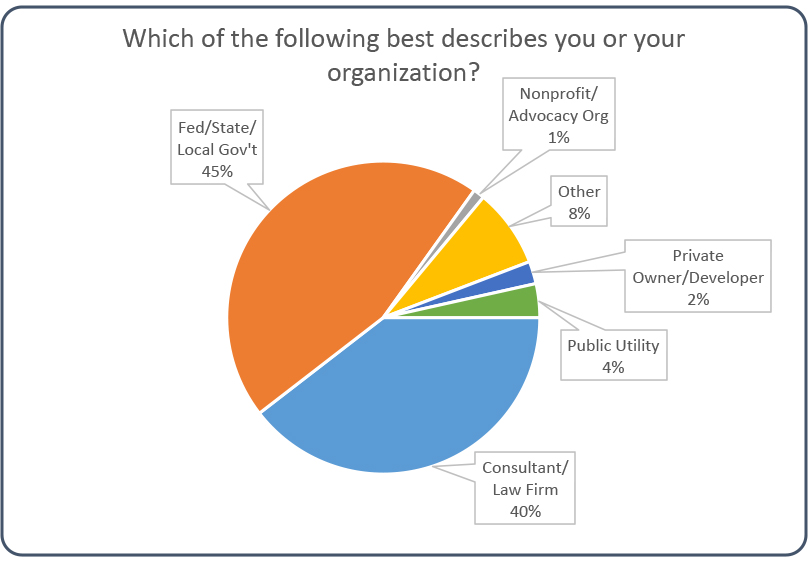 The majority of the attendees were either government employees or worked in consulting or law firms. About 45% of those who attended work in federal, state, or local government. 40% were consultants or attorneys, 4% work at public utilities, 2% are involved are private landowners or developers, and 1% worked at nonprofit or advocacy organizations.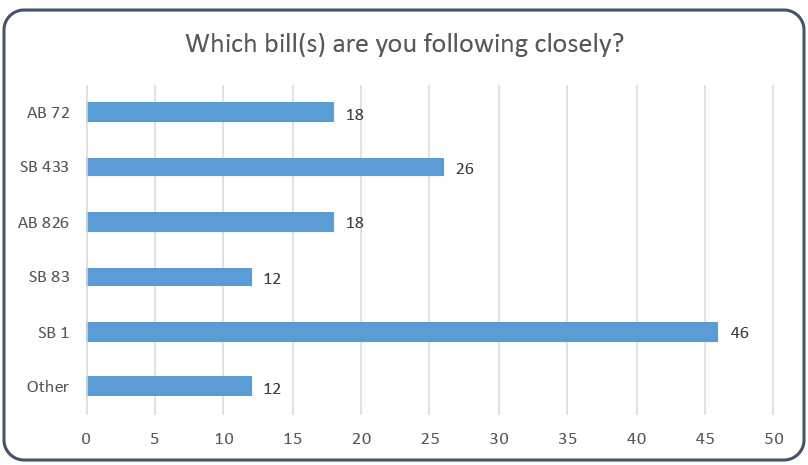 After our presentation's discussion of upcoming legislation, we turned to the attendees to ask them which pieces of legislation they are following most closely. SB 1 clearly held the most interest among our attendees, possibly due to the wide-reaching impact of SB 1. The bill would amend the Coastal Act to require that State and regional agencies minimize and mitigate the impacts of sea level rise and would require the Coastal Commission to consider the effects of sea level rise in its coastal resource planning and management policies and activities.
SB 433 has also generated a good deal of interest. SB 433 would authorize the Coastal Commission to institute civil administrative penalties for violations of coastal development permit conditions.
Attendees showed some interest in AB 72 and AB 826 as well. AB 72 would task the Natural Resources Agency with development of a new permitting process for coastal adaptation projects, and AB 826 would establish a conservancy dedicated to combating beach erosion of the South Central Coast.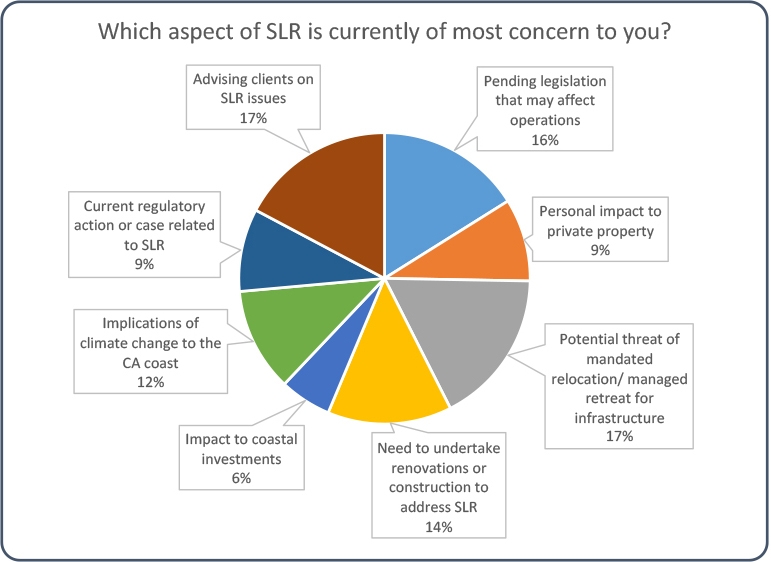 Among those who attended our presentation, concerns about sea level rise took a variety of forms. Many attendees were concerned about advising clients on sea level rise issues, perhaps due to our large showing of lawyers and consultants in the audience. The potential threat of mandated relocation and managed retreat for infrastructure also registered as primary concern, along with pending SLR legislation.
It's clear that those who attended our webinar are concerned about a variety of concerns related to sea level rise and that these concerns could change form over time. Our changing environment caused by climate change is matched by the constantly evolving legislation around sea level rise, and with these changes come new questions and concerns.
We appreciate all of the input we received from those who attended the webinar, and please feel free to reach out if you have any questions.
Associate

Raven McGuane focuses her practice on state and federal water industry issues. She assists in preparing legal briefs and advising clients on regulatory compliance and complex water rights issues. Raven's experience includes ...
California Water Views provides timely and insightful updates on the water sector in the state. We relay information on how water legislation and policy from the nation's capital, Sacramento, and around the U.S. affect California's water utilities, agencies, practitioners, and consumers. We also write about important events, conferences, legal cases, and other key happenings involving all things water in and around California.
Stay Connected

RSS Feed
Categories
Archives
View All Nossaman Blogs