Recap of the Election's Potential Legislative Impacts on the Water Sector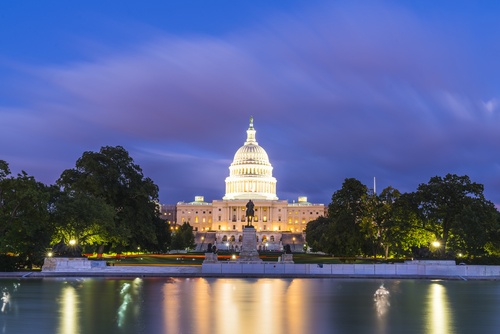 If you were unable to attend our recent webinar "Flood or Drought? A Discussion of the Election's Potential Legislative Impacts on the Water Sector", please check out the recording of the on-demand webinar, which can be accessed here. Additionally, we invite you to download the presentation slide deck here.
Several key take-aways from the presentation included:
Consensus among the water industry, and a proactive approach, will help advance legislative goals under tight timeline pressures.
The State Resources Water Control Board is currently gathering information about the financial impacts of Governor Newsom's April 20, 2020 Executive Order on water suppliers, through a statewide voluntary survey meant to inform the legislature and administration of the financial burdens with which water suppliers are faced.
The CPUC is also collecting information from investor-owned water utilities about arrearages, customer participation in assistance programs and other data related to the impact of the COVID-19 pandemic.
Anticipated Water Industry Issues for 2021:

Addressing Customer Debt
Climate Change Impacts
Continued SB 998 Implementation
Investment in Water Infrastructure
Per- and polyfluoroalkyl substances (PFAS)
Social Inequities and Economic Hardships from Pandemic
Water Affordability
Wildfires and Public Safety Power Shutoffs (PSPS)

Unfinished business could advance: Water Infrastructure, Surface Transportation Legislation
Effective government relations strategies, including coordinated Federal and State actions, can impact outcomes for municipal entities Competition is fierce for limited federal funds for a growing national need.
While facts and outcomes vary by project, client and many factors, the role of government relations is crucial to secure funding and support for projects and project funding.
Nossaman will continue to monitor regulatory and possible funding developments regarding the water sector in 2021 as we transition into a new Administration. Please stay tuned to our blog and subscribe to our mailing lists here in order to receive the latest updates on water issues.
Partner

Lori Anne Dolqueist's practice focuses on water, energy, transportation and telecommunications regulatory matters before the California Public Utilities Commission (CPUC). She is experienced in representing clients in ...

Senior Policy Advisor

Chris Carney has found success through public service. He represented Pennsylvania's 10th Congressional District for two terms and was a tenured professor of political science specializing in international relations at Penn ...

Senior Policy Advisor

Ashley Walker is a Senior Policy Advisor providing federal and state legislative solutions and grant funding advocacy for a variety of clients with interests in sustainable communities, housing, water, and education issues. She ...
California Water Views provides timely and insightful updates on the water sector in the state. We relay information on how water legislation and policy from the nation's capital, Sacramento, and around the U.S. affect California's water utilities, agencies, practitioners, and consumers. We also write about important events, conferences, legal cases, and other key happenings involving all things water in and around California.
Stay Connected

RSS Feed
Categories
Archives
View All Nossaman Blogs